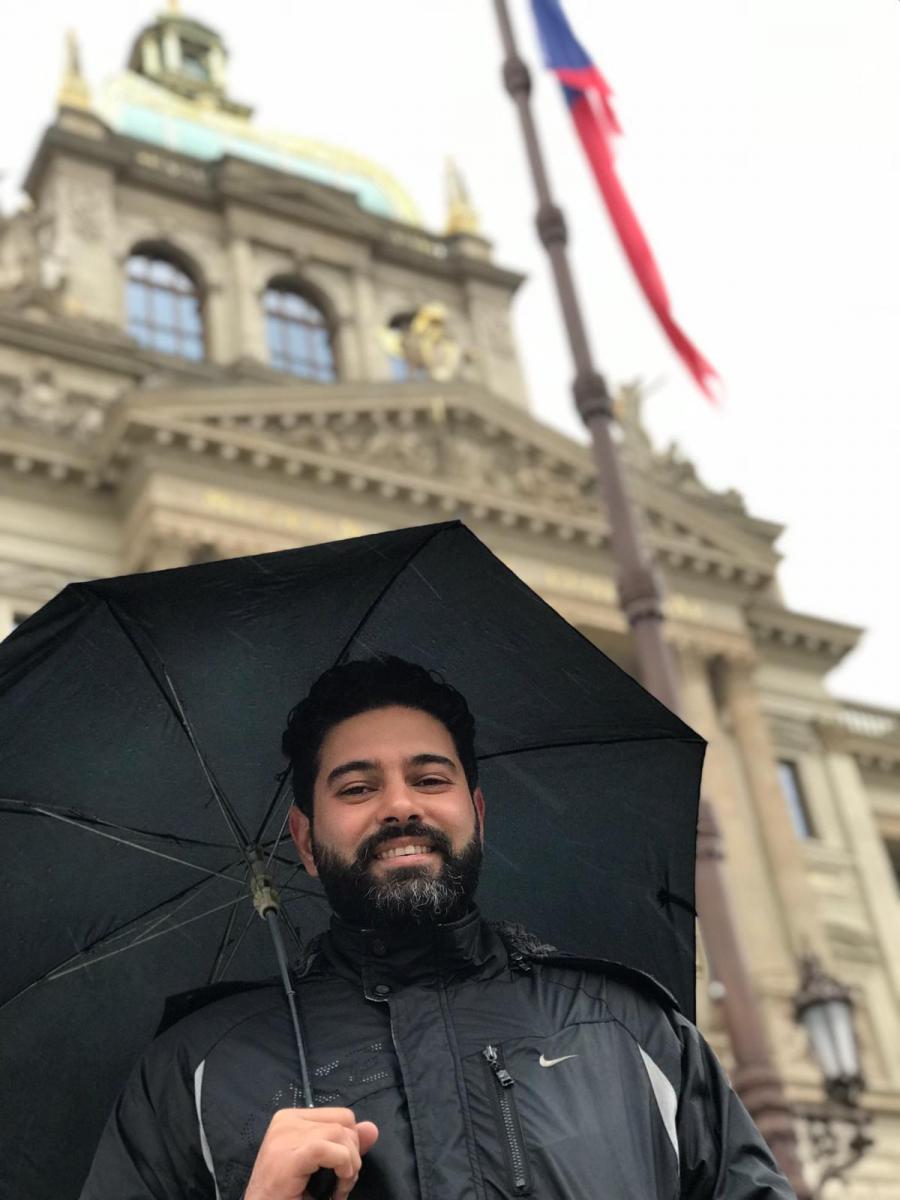 Who are you? Where are you from? How long have you been in the Czech Republic and at the University of Pardubice...
My name is Mehran Sajad, I'm from Iran and it's my second year here.
Tell us more about your studies?
I'm a Ph.D student at the Faculty of Chemical Technology. I'm working on catalysis for producing valuable compounds from natural gas.
Is this your first study experience abroad? I was told that an Iranian friend of yours (who was a postdoc at the Faculty of Chemical Technology) convinced you to come. Is it true? Are you still in touch with him?
Yes it's my first experience studying abroad. It's true, actually I heard about this group from a mutual friend and then I received a suitable offer from my supervisor to come here as a Ph.D student. He has been my friend for 6 years and we are still in touch.
Did you know about the Czech Republic before you came? And if so, what did you know about it?
Not too much, only about crystal made in the Czech Republic, which is very famous in the world, and about some football players like Pavel Nedvěd or Petr Čech.
Was it complicated to move to Pardubice? Did you get any assistance?
Yes, everything was so challenging: accommodation, weather, new lifestyle, different culture, people's behaviour, food, being far from my family and friends, also finding people who wanted to speak English with foreigners, etc. But my friends and also the Euraxess organisation helped me as much as they could.
You have been here for one year now, is it still difficult? Also, do you indirectly suffer from the EU restrictions again Iran?
It is still difficult but of course not the same as before, now I have many friends and already know about the differences in lifestyle here and in my country. I found a way to solve some of the problems and got used to the ones that cannot be solved. Now, I usually have enough plans for my free time, and sometimes joining some events is helpful too.
There were some problems with the banking system, but I found a solution for that. The new sanctions have been applied by U.S., and many European countries are trying not to follow them. We will see if they will be successful or not. Politics is always complicated and ridiculous, because it's only between governments and not ordinary people.
Besides your studies, what do you do in the Czech Republic (hobbies, job, projects…)?
I usually travel a lot and I love it, and hiking is one of my favourite activities in the Czech Republic.
When I'm in Pardubice I usually meet up with friends in pubs or restaurants – eating and drinking is one of the best plans for evenings. During summer, walking (especially next to the river) and biking are enjoyable too. I also like shopping when it's related to food. ;)
Have you been able to make some friends and contacts here?
Yes, it was not easy at first but then it got easier with time. I form friendships according to trust and respect and so far it is going well, but it needs more time.
How do you find the Czech culture: the food, the way the people are, and live? What is the main difference between Czech culture and Iranian culture?
The food here is tasty but not healthy most of the time. Eating meat every day or even for every meal is not for me. Usually in my country for a normal meal, there is a bigger portion of vegetables than meat and that's the main difference: vegetables are more expensive here so maybe it's the reason.
I saw different behaviours of people here but most of the times people are 'colder' than in my country – especially towards foreigners. But fortunately it's only at first, and after a while they get closer. During the first months I did not know that and thought it's impossible to make friends, but then I found that it only takes time.
How is life in Pardubice? Is it hard to live here? What do you do in Pardubice that you didn´t do Iran and Vice versa?
I used to live in big cities before coming here, and the lifestyle in a metropolis is totally different and I liked it. So Pardubice couldn't satisfy me at first, for the instance shorter opening hours of shops or not seeing crowded places, etc. But after accepting this new lifestyle, it started to get better and better and now I really enjoy living in Pardubice. It's such a peaceful and quiet city and also very safe, everything is close by and we have everything we need, like many pubs and restaurants, shops, important sports events, different cultural events and so on. Also, Pardubice is in the centre of Czech so it's great for traveling and very close to Prague, so when I need that kind of atmosphere it's easy to get there in less than 1 hour.
Do you have a favourite place in Pardubice/Czech Republic, or a place where you go to get away?
I have many favourite places in Pardubice, just some examples include Dydy baba, Acko, Bohemska hospoda, Café Bajer, Road Café, Pivni embossed...
The old town of Prague is also always attractive to me.
Do you know any words in the Czech language? Is Czech Language more difficult than Persian?
Could you tell us more about your mother tongue?
I know only some words and can have basic conversations. The Czech language is very difficult for me and also I guess compared to Persian.
Persian (Farsi)  is the language of poetry and love, very nice, smooth and pleasant. It's easier than other languages in Europe because there is not any gender for objects, they are all neutral, the same as in English when we use "it". Even for "he" and "she" the same word is used, which gives you the ability to have a couple of meanings for the same sentence to use in poetry, and it also increases the sense of humor in people.
I was told that Iran had very famous poets, could you tell us more about it? Who is your favourite author and what is your favourite poem?
There are many poems that I really love. This is one of them:
Human beings are members of a whole,
In creation of one essence and soul.
If one member is afflicted with pain,
Other members uneasy will remain.
If you have no sympathy for human pain,
The name of human you cannot retain.
"Saadi"
Yes that's true, there are many famous poets in Iran's history since hundreds of years ago till now. I only give you some examples:
"Ferdowsi" (940-1020) the author of Shahnameh (Book of Kings), which is the world's longest epic poem created by a single poet, and the national epic of Greater Iran. Ferdowsi is celebrated as the most influential figure in Persian literature and one of the greatest in the history of literature.
Another great example is "Rumi" who was a 13th-century Persian poet. His poems have been widely translated into many of the world's languages and transposed into various formats. Rumi has been described as the "most popular poet" and the "best selling poet" in the United States.
Rumi's influence transcends national borders and ethnic divisions: Iranians, Tajiks, Turks, Greeks, Pashtuns, other Central Asian and South Asia have greatly appreciated his spiritual legacy for the past seven centuries.
"Khayyam" (1048-1131) was a Persian mathematician, astronomer, and poet.
"Hafez" was a Persian poet who "lauded the joys of love and wine". His collected works are regarded as a pinnacle of Persian literature and are often found in the homes of people in the Persian-speaking world, who learn his poems by heart and still use them as proverbs and sayings.
"Saadi" (1210-1291) is recognized for the quality of his writings and for the depth of his social and moral thoughts. He has been quoted in the Western traditions as well.
"Attar" was a twelfth-century Persian poet, theoretician of Sufism.
After your studies, do you have any plans? Would you like to work in another country?
It's a really difficult question, who knows about the future. It's not only up to me, my next job and my family and my experience in the Czech Republic can affect the decision.
If someone was coming from Iran to the Czech Republic, to Pardubice, what advice would you give them?
Get prepared for thousands of challenges but don't panic and just accept them, you will be fine and it's going to be a huge experience in your life. Always be open to challenges.
Caroline Novak-Jolly
Department of International Affairs and Developement