The International Office is delighted to host 2 presentations about career and study opportunities in Europe on Monday 11 March at the Language Centre, DB 01002.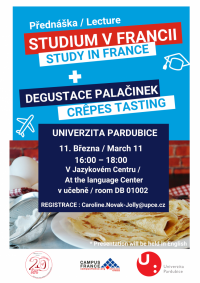 From 3:00 p.m. to 4:00 p.m. Mr. Jáchym Hercher, policy officer at the European Commission, will talk about career oportunity in Europe. It will be held in Czech and English.
From 4:00 p.m to 6:00 p.m. the Alliance Francaise and Campus France will give – as they did in 2017 and 2018 – a presentation of study programmes in France followed by a tasting of French food.
These 2 events are both for our international and Czech students, academic and non-academic staff.
If you are interested, please contact Caroline Novak-Jolly at caroline.novak-jolly@upce.cz to sign up.